A Concert of the Bremen Youth Symphony Orchestra Held in Risan
The Bremen Youth Symphony Orchestra performed last night at the November 21 Square in Risan. The concert was organized by the NGOs Medaur Risan and Bocche di Cattaro – Perast String Festival. Partners of the event were KotorArt International Festival and the German Embassy in Podgorica.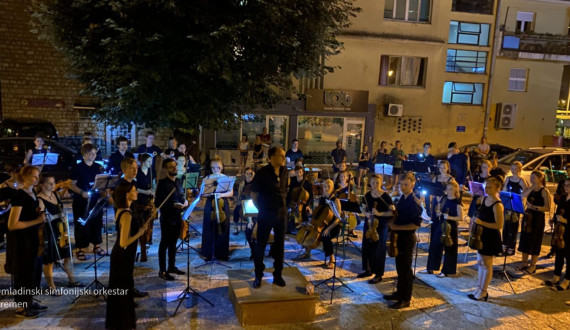 On behalf of the partners, Karolina Radulović first greeted the audience. She said that this concert is an expression of the desire of the orchestra and the organizers that despite the technical obstacles to its realization in Kotor, our audience still has the opportunity to hear these young musicians with a representative program.
"The performance is part of the KotorArt is Visiting series, which the festival organizes with local coordinators in Cetinje, Tivat, Žabljak, Podgorica and Bar", stated Radulović.
Jelena Čečur addressed the attendees on behalf of the organizers.
"It is my honor to welcome the orchestra's passion to perform tonight in Risan and to thank them on behalf of the organizers", said Čečur and then introduced the orchestra to the audience.
The orchestra was founded by Heiner Buhlmann in 1980 at the Bremen Music School, which quickly grew from a relatively small ensemble into an orchestra of symphonic size. Today, the Bremen Youth Symphony Orchestra consists of eighty young musicians aged fourteen to twenty-two. Since 2012, the Orchestra has been led and conducted by Martin Lentz.
The program included works by Beethoven and Mendelssohn.