A Popular Program Interpreted by Berliners
Continuing the cooperation with Porto Montenegro, the KotorArt Don Branko's Music Days Festival organized a concert of Berlin artists in the Porto Montenegro Auditorium. On Thursday, July 20, clarinetist Andreas Ottensamer, violinist Daishin Kashimoto and pianist Jose Gallardo performed in the largest auditorium in the country. They attracted the attention of both the locals and apartment owners in Porto Montenegro with their program, which is aimed at a wider audience thanks to its stylistic specificity, listenability and popularity.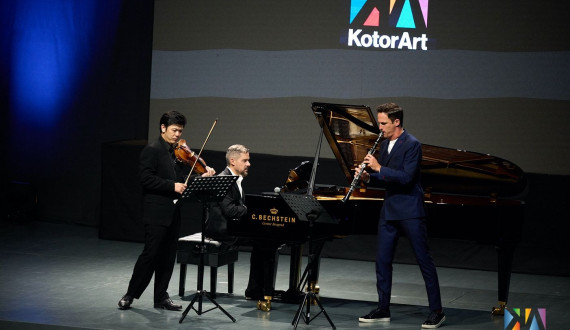 Andreas Ottensamer, Principal Clarinetist in the Berlin Philharmonic, is known to the audience of KotorArt from previous editions of the festival. He was a guest at a concert of Montenegrin guitarist Miloš Karadaglić, playing with accordionist Ksenija Sidorova, and then in a duo with the famous pianist Yuja Wang. The audience then already had the opportunity to listen to his arrangements, especially some of Felix Mendelssohn's Songs without Words (originally written for piano), which he presented this year as well – this time to the audience in Tivat. Together with pianist José Gallardo, Ottensamer also performed George Gershwin's Prelude, as well as the Pocket-Size Sonata No. 2, by Alec Templeton. Ottensamer and Gallardo are Artistic Directors of the Bürgenstock Chamber Music Festival in Lucerne, and they also collaborate on stage. Having received his education in his native Argentina, in Buenos Aires, Gallardo became one of the most sought-after performers in the field of chamber music, and this reputation is justified by the fact that he has played with famous musicians such as Gidon Kremer, Barnabás Kelemen, Janusz Wavrowski and others. A part of the concert was dedicated to Gallardo as a soloist performing tangos by Argentine composers, thus showing the palette of different characters of this popular music and dance genre. The new tango (tango nuevo) was performed by all three artists together. Also, Ottensamer, Kashimoto and Gallardo performed the well-known Café from the Histoire du Tango cycle by Astor Piazzolla, but in an arrangement for clarinet, violin and piano.
When it comes to the program of the concert, in addition to compositions by Gershwin, Templeton, Piazzolla, and arrangements of popular pieces by Mendelssohn, the audience had the opportunity to enjoy "pure" classical music, as well. Violin Sonata in G major, K. 301 by Wolfgang Amadeus Mozart was performed by Daishin Kashimoto, first concert master of the Berlin Philharmonic, and pianist Gallardo. With a very in-tune sound, stylistically formed melodic lines, with a balanced violin and piano sound, the interpretation was an example of a true understanding of classicism and chamber musicianship. In addition, the two artists performed a work of a completely different stylistic sensibility – George Gershwin's Porgy and Bess.
From "jazzed", through "pure" and "popular" classical music, to Argentinian tango, it was a repertoire receptive to a wider audience, a concert where everyone, regardless of their personal, musical and experiential background, could find something to fit their taste.
Boris Marković