Between Waltz and Tango, Elegance and Passion
A myriad of performance practices and traditions converged in the performance of the Plattform K+K Vienna on Saturday, July 29, at the Porto Montenegro Auditorium. As part of KotorArt Don Branko's Music Days, the ensemble showcased dance traditions including Ländler, waltz, and tango, through classical and jazz music arrangements by Kristijan Bakanič, promoting their compact disc titled Vienna Calling! recorded under the Deutsche Grammophon label in 2018. Alongside accordionist Bakanič, the ensemble featured its founder Kirill Kobantschenko, a violinist of the Vienna Philharmonic, as well as violist Nozomi Cani, cellist Florian Eggner, double bassist Bartosz Sikorski, and pianist Cristoph Eggner.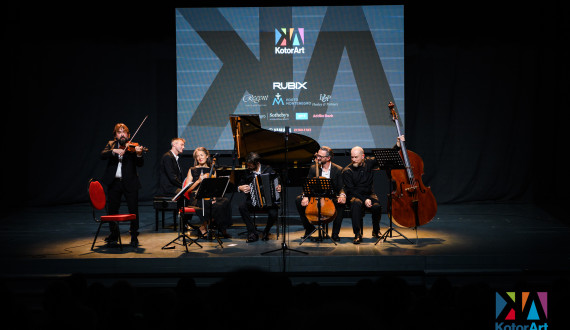 In their "Viennese calling," the artists, on one hand, focused on the Austrian, specifically Viennese heritage of composers like Mozart, Schubert, Strauss II, and Kreisler, who were linked to the Habsburg Monarchy, or the Austro-Hungarian Empire through life or birth. Consequently, the selected repertoire harmonized seamlessly with the Ensemble's name, reinforcing the Viennese "program of work" (platform) and the K+K abbreviation, alluding to the kaiserlich und königlich phrase (German for imperial and royal), often associated with the Viennese court. Thus, the audience was treated to arrangements of Mozart's Turkish March, Franz Schubert's Die Nebensonnen from the Winterreise cycle, Fritz Kreisler's composition Schön Rosmarin, as well as the famous waltz Wiener Blut by Johann Strauss II. On the other hand, counterposed to the legacies of the Viennese court and aristocracy, the Ländler and waltz, a new tango emerged – an Argentine dance transformed by Astor Piazzolla. Within this context, the artists performed the Tango-etude, with Kobantschenko delivering the solo part, Milonga Del Angel, and the famous Libertango. The repertoire of the new tango was enriched by Bakanič's original works – Pentango and Milonga lenta.
The conceptual coherence of the Plattform K+K Vienna's performance ostensibly originates from, yet fundamentally only suggests, two compositions of the same name. Wolfgang Amadeus Mozart's Turkish March performed at the outset, and Dave Brubeck's Blue Rondo à la Turk performed at the concert's conclusion, share very little in common. While Mozart composed his well-known Turkish March drawing inspiration from the tradition of janissary music, Dave Brubeck's famous jazz standard was founded upon the aksak rhythm, typical of Turkish folklore. Therefore, Bakanič's intervention proved especially intriguing, as it reharmonized the connection between Mozart's piece and Turkish folk motives.
Boris Marković