KotorArt Academy – An Opportunity to Improve Performing Skills
The students of the KotorArt Academy presented their musical interpretations perfected at the master class of the famous violinist Stefan Milenkovich to the audience in the Church of the Holy Spirit, on Tuesday, July 27. Young violinists Kristina Uriegas, Milena Jaramaz, Vjera Radulović, Marija Tunić and Dušan Obrenović had the opportunity to learn from the world-class artist.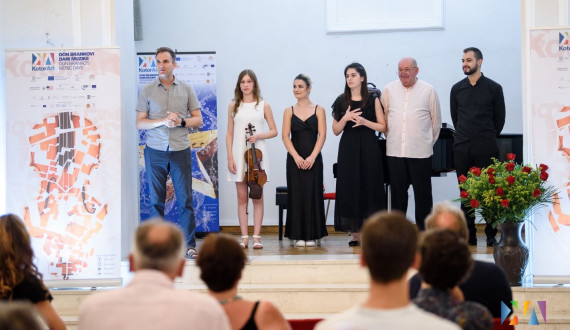 Besides concerts, KotorArt has nurtured musical pedagogy in the form of master classes since its beginnings. This year, master class programs have been combined into a segment called KotorArt Academy. This year three world renowned pedagogues and performers have had a residency at the Festival – violinist Stefan Milenkovch, flautist János Bálint and pianist Kemal Gekić. Master classes, as a practice that has been organized for decades all over the world, are a good opportunity for participants to get to know the work of eminent pedagogues, to improve their performance skills, strengthen their self-confidence and make contacts with their peers.
Stefan Milenkovich, an artist of a rich performing career, is known to the audience of KotorArt from previous editions of the festival as a performer. This year, however, he has transferred his many years of pedagogical experience gained at the University of Illinois, and more recently at the Academy of Arts in Novi Sad, to young artists. Greeting the audience at the beginning of the evening, he pointed out that, given the two-day duration of the course, it is more a "small violin workshop" than a master class that usually lasts five to six days, and that therefore the interpretations of the participants are a kind of work in progress. Milena Ramazan opened the concert performing the second movement of Robert Schumann's Concerto for violin and orchestra in D minor. Then, Dušan Obrenović performed the popular Zigeunerweisen by Pablo de Sarasate. Marija Tunić performed the second and third movement of the Sonata for violin and piano No. 2 by Maurice Ravel, while the youngest among them, Vjera Radulović, performed Scherzo composed by Johannes Brahms for the famous Violin F-A-E Sonata, on which he worked together with Robert Schumann and Albert Dietrich. Young artists were also strengthening their self-confidence and "getting rid of stage fright" through communication with the audience, because each of them introduced themselves before playing and provided the audience with the basic information about a piece they were going to perform.
The next master class at KotorArt Don Branko' Music Days will be a flute master class, which will then be followed by the piano one. The festival will award a scholarship to the most successful talented participants and provide logistical assistance in their concert activity.
Boris Marković