The EU #SYNERGY project partner meeting held
The day after the opening of The First Twenty Years exhibition, the first meeting of representatives of all partner festivals on the European #synergy project was held in the Church of the Holy Spirit.
The host of this important meeting was Ratimir Martinović, Director of the KotorArt Don Branko's Music Days Festival.
The guests of the initial #synergy meeting were: Dora Ružjak Podolski (Artistic Director of the Dubrovnik Summer Festival – Croatia), Darko Brlek (Director of the Ljubljana Festival – Slovenia), Denis Bizgha (Project Manager of the Vox Baroque Festival – Albania), Besa Luzha (Festival Manager, Chopin PianoFest – Kosovo), Jelena Janković – Beguš (Program Manager and Producer, Belgrade Festivals Center – Serbia), as well as other members of the project.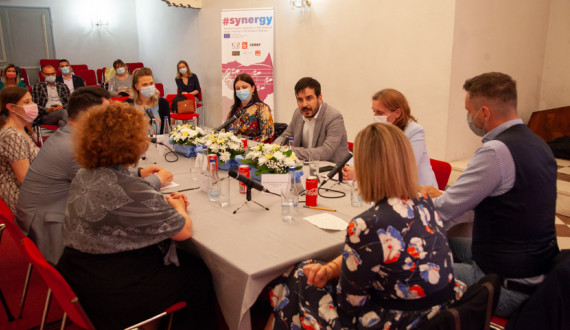 Ms. Milica Kadović Đorojević, State Secretary of the Montenegrin Ministry of Education, Science, Culture and Sports and Mr. Vladimir Jokić, the Mayor of Kotor also addressed the participants.
The extensive three-year #synergy project was presented at the meeting, as well as further plans for cooperation. The aim of this project is training and connecting cultural industry workers, primarily those involved in festivals and art music, encouraging the creating of new classical music pieces inspired by the local heritage of all participating countries, starting with Kotor and Montenegro, as well as networking and collaboration of young musicians, composers and organizations pertaining to classical music industry in the Western Balkans.