On the Wings of Pianism from the Far East to the West
Chinese artist Chen Junyan performed at KotorArt Don Branko's Music Days
The cooperation that KotorArt achieved a few years ago with the Embassy of thePeople's Republic of China, and with Chinese institutions – the Shanghai International Cultural Association and the Shanghai Music Association, contributed to the visibility of a whole range of young talented artists from China at the Festival and in this part of the region.
At this year's KotorArt Don Branko Music Days, on Tuesday, July 19, Chen Junyan held a piano recital in the Church of the Holy Spirit.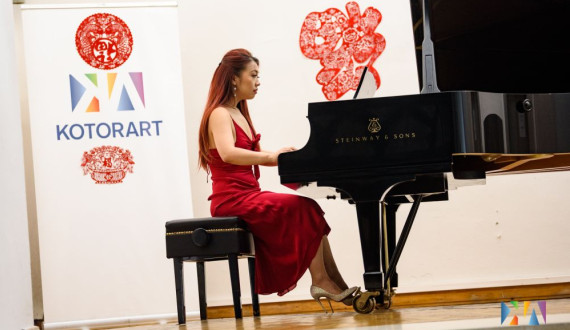 Chen Junyan performed works of Chinese and Western European composers of different periods and styles. She opened the concert with the composition The Cowherd's Flute by the 20th century Chinese composer He Luting, followed by the Jasmine Flower Fantasia, a composition of the contemporary Chinese composer Chu Wanghua. Both compositions were inspired by the Chinese folklore, and the pentatonic scale structure served as the basis of the melodic line and consequently of the harmonic language, which was particularly pronounced in the first composition. With these works, Junyan presented a part of her cultural heritage, emphasized with extra-musical content, objects that were hung on the walls of the Church of the Holly Spirit which, according to Chinese tradition, are symbols of good luck.
When it comes to the classical repertoire, Junyan opted for works by Ludwig van Beethoven and Franz Liszt. Piano Sonata in A Major, Op. 101, from the late opus of Ludwig van Beethoven, is part of the repertoire that the artist, as a graduate student at the Royal Academy of Music in London, studies under Professor Joanna MacGregor. With her interpretation of the piece in the style of classicism, with all thespecifics of Beethoven's late creative period, Junyan showed an understanding of music sections, a taste for emphasizing melodic phrases, yet without exaggerating the level of drama, but dosing it according to her own sentiment.
Chen Junyan is the winner of numerous awards, and at the City of Vigo International Piano Competition she won as many as four awards. As a soloist, she has played across China, as well as in Japan, Italy, United Kingdom, and Spain, and all that concert experience had a positive impact on her performance at KotorArt Don Branko's Music Days. In this regard, by performing Franz Liszt's Piano Sonata in B minor, she showed that she rules the stage, uses the time rationally, and shows the technique that is in the function of expressing the musical line. For the interpretation of Liszt's Sonata, one of the most complex compositions in the piano repertoire, which requires not only extraordinary virtuosity from the pianist, but also a special approach to understanding the whole and implementing the motives on which it is thematically based, Chen Junyan received warm applause from the audience.
The China Stage concert ended with the composition Autumn Moon over the Calm Lake, another work by a contemporary Chinese author, with which the young pianist Chen Junyan rounded off her recital.