Sinergy of Music and Ecology. Slovenian Matija Krečić, Composer in Residence
In the Church of St. Nicholas Franciscan Monastery in Prčanj, KotorArt Festival Don Branko's Music Days hosted the Slovenian composer Matija Krečić who, as part of the #synergy: Sharpening the Capacities of the Classical Music Industry in the Western Balkans project, is staying in Kotor to explore the environment and write compositions inspired by it.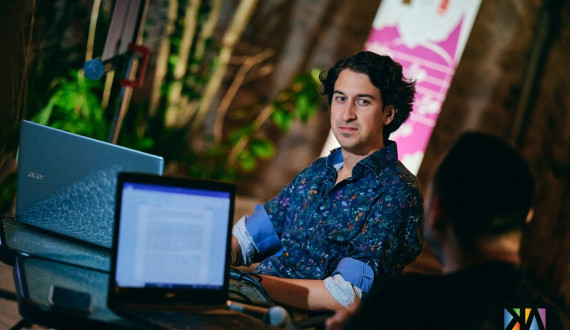 In a conversation with Boris Marković, a moderator of the evening, Matija pointed out that the strongest impression on him has been sound pollution, which will be the theme of his composition. The audience also had the opportunity to become familiar with Matija Krečić's chamber and film music.
Matija Krečić is one of the twelve composers participating in the aforementioned cultural cooperation project, which is run by the KotorArt International Festival in partnership with important art festivals in the region, supported by the European Union through the Creative Europe program. Each composer will write a new composition inspired by local and European cultural heritage. The project will culminate in a 2023 Festival Tour across the Western Balkans, featuring composers, twelve new compositions, and promissing young musicians from the region.
SHARE TALKS: Intelligence as a Power, organized by the SHARE Foundation, was held last night at the Cinema Square. Lectures given by experts in this field will result in more effective networking and knowledge transfer, and the involved organizations will have the opportunity to jointly deal with digital rights issues in the region. They are part of the project titled Modifying Error 404: Towards Green, Digital and Inclusive Societies, supported by the Open Society Foundation.