The Importance of Informal Education
Participants of the masterclass presented a concert at KotorArt Don Branko's Music Days, showcasing the results of their multi-day collaboration with their mentor, pianist Kemal Gekić. In the Church of the Holy Spirit, on Friday, August 11, the audience had the opportunity to enjoy performances by Sofija Jović and Andrija Jovović from Montenegro, Katarina Davinić, Tamara Traparić, Anja Riđešić, and Luka Šašić from Serbia, as well as Iva Pavlović from Croatia. Additionally, Vladana Perović from Montenegro and Mürvet Nerva Küpana from Turkey were part of the Academy.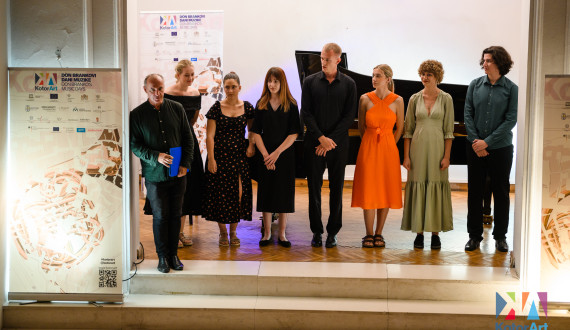 For the development of students' skills and abilities, in addition to formal education, education through masterclasses conducted by renowned pedagogues/performers is of significant importance. The knowledge gained from this form of informal education enhances technical prowess and ignites the creativity of young artists, enabling them to perceive their artistic development from various angles. In terms of working with young talents, alongside the KotorArt Talents concert segment, KotorArt also provides education through the KotorArt Academy. In previous years, this was led by violinist Stefan Milenković and flutist János Bálint, while for both last year and this year, the instructor was pianist Kemal Gekić.
After several days of mentoring, from August 7 to 11, the masterclass participants held a concert, performing pieces they had prepared in collaboration with their mentor. Apart from the Chromatic Fantasia and Fugue by the Baroque composer Johann Sebastian Bach, performed by Katarina Davinić, and Claude Debussy's L'isle joyeuse, performed by Iva Pavlović, the audience had the chance to enjoy a romantic repertoire. In this context, Tamara Traparić performed Rhapsody in B minor, Op. 79 by Johannes Brahms, while Anja Riđešić played the Ballade in B minor by Franz Liszt. The music of Frédéric Chopin was presented by three young pianists: Andrija Jovović performed the Scherzo in B minor, Luka Šašić played the Scherzo in B-flat minor, and Sofija Jović tackled the first movement of the Piano Sonata, Op. 35.
Following the concert, Kemal Gekić awarded the young artists from both the country and abroad with diplomas for their participation in the KotorArt Academy.
Boris Marković